Back under the bar
on
May 12, 2014
at
6:17 pm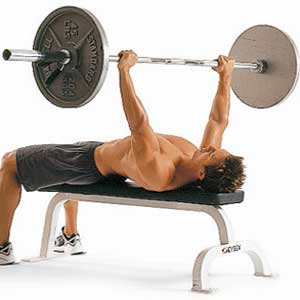 This weekend Cindy and I did a run/swim brick on Sunday.  The run portion was two loops around a local park which worked out to 4 miles, the longest run under my belt in 2014 which is pretty sad.  4 miles felt like 10 used to.  I'd like to keep building my running endurance back up but there seems to be one injury/ailment after another that keeps derailing progress.  The latest is my first ever case of h-roids, getting old is so much fun.
I did a total of 1600 yards of swimming.  I stretched my swim segments as prep for a team tri I am doing in a few weeks as the swim leg.  My pace wasn't great, roughly 9 minutes per 400 but it's good enough considering the inconsistency my endurance training has seen in 2014.
So today at the gym I was feeling annoyed and irritated, mostly by the irritation in the seat of my shorts.  I almost felt like bagging it due to frustration.  I wound up doing stagger pull ups, three sets of 20 deep dips and then something I haven't done in EONS, bench press.
Bench press used to be my favorite exercise, it was the move that I judged my overall fitness level by.  The bigger the number, the stronger I felt.  This was the case for about the first 20 years of my adult gym going life.  Somewhere around 5 years ago I started having more and more shoulder pain and bench pressing amplified the problem.  My interest in body weight movements eventually pushed bench press totally out of my fitness regimen.  Before today, I think the last time I benched was in 2012, maybe.
I really had no idea what to expect trying to bench, especially after doing three hard sets of dips.  It's a good thing I wasn't expecting much.  Getting back under the bar felt familiar, despite that vantage point being absent from my life for so long.  Laying under a barbell for me can invoke a myriad of emotions ranging from excitement, anxiety, anger and fear.
I started light with only 135 pounds on the bar, a weight I used to  bounce up and down for what I would now consider 15 shitty reps.   I did 10 slow reps with full extension each time.  I'm not sure if it was the pre-fatiguing with dips, the full ROM or just lack of bench pressing, the weight felt heavier than I hoped.
I went up to 185 and did just a single rep with a goal of loosely testing my 1RM.  At 205 lbs it felt like I had already started scraping the limit.  It felt like 275lbs did during my creatine enhanced, 210 pounds of flabby Duf days.  I backed down to 185 lbs and did thee sets of 3 reps and then a final set of 4 reps.  On the plus side I didn't feel any shoulder discomfort doing the reps.
I'm not sure if I will try to shuffle bench pressing back into my regimen or not.  For some reason I hoped the thousands of push ups I have done since abandoning BP would have translated to me pushing more weight.  The last thing I need is something else to feel like I am under performing in.
Today's Workout
5 minutes cardio/stretching
3 stage pull ups (bottom, middle, top pause)  x8 x 6 x 6
Full ROM dips – 20 reps x 3
Bench press – 135lbs x 10, 185lbs x 1, 205lbs x 1, 185lbs x 3, 185lbs x 3, 185lbs x 3, 185lbs x 4
6 minutes of A2G hold