Too crowded, Today at the gym
on
February 25, 2014
at
6:30 pm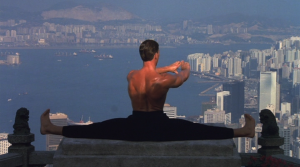 A few times a week I have been posting my odd, funny, or interesting observations from the gym to my wall on Facebook.  Unfortunately FB is a lousy way to find things down the road so instead I am going to incorporate those observations, when I have them, here instead where they can be easily categorized, searched and found.
Today at the Gym – I was immediately impressed when I saw from a distance some guy doing a Van Damme style side split in front of the trainers area.  I was surprised then I got closer and realized it was Todd from the dynamic Todd and Margot couple.  I thought Todd specialized in grunting and looking grumpy.  I had no idea he possessed superior flexibility.  I have to give props where they are due.
Today I also spotted a new face, a new miserable looking face.  It was an older woman that was doing various Cybex machines.  By her facial expression I really could not tell the difference between if she was exercising or was just told she had 3 months to live.
My gym routine was intended to include squats and deadlifts today.  I did neither.  For whatever reason the gym was suffering from overpopulation today, most areas I looked at where already occupied.  My workout instead consisted entirely of Cybex work (just like miserable looking woman) with A2G holds mixed in between.  I cant believe how sore my upper body is from my session yesterday.
Today's Workout
5 minutes cardio/ stretching
Cybex leg press machine – 230lbs x 10, 270lbs x 8, 290lbs x 8
Cybex seated leg extension with pause at top – 110lbs x 12, 130lbs x 10, 150lbs x 10
Cybex prone leg curl – 110lbs x 10, 130lbs x 6
Cybex standing calf raise – 265lbs x 10
1 minute A2G holds between each set for a total of 9 minutes hold time