3.5 > 3
on
January 13, 2014
at
7:14 pm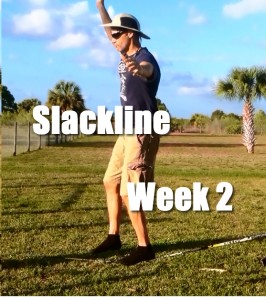 Over the weekend Cindy and I got some more slackline time in.  I made the line shorter to remove some of instability.  I also used some tips I saw online like balancing on one leg, keeping your elbows above your shoulders and looking at the line anchor point instead of straight down.  The combination of changes seemed to help me as I managed to get a few slow and controlled steps on the line instead of just doing a mad dash where you are basically just falling forward.
Cindy and I also got some endurance training in doing a 20 mile bike ride that included tough wind conditions on the ride back.
Today at the gym I did back to back Century sets, something I have done in the past several times.  It gets surprisingly brutal very quickly, I never got through more than three rotations during a gym session before.
Today it felt brutal as always although I did better performing the sets consistently, getting through all sets contiguously without breaking form.  In the third set I was feeling rather dizzy at certain points.  By the time I completed round three I was tired obviously but the "heavier, faster, more" part of me kicked in.  I decided to do a half century rotation because I was low on time and remaining energy.
Today's Workout
5 minutes cardio/stretching
3.5 Century circuits (outlined below)
40 BW squats
30 push ups
20 hanging knee raises
10 pull ups
40 BW squats
30 push ups
20 hanging knee raises
10 pull ups
40 BW squats
30 push ups
20 hanging knee raises
10 pull ups
20 BW squats
15 push ups
10 hanging knee raises
5 pull ups