Making Ray's Way pay
on
September 23, 2013
at
5:23 pm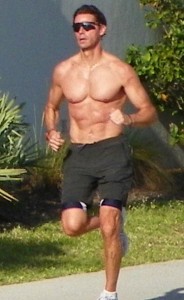 This weekend my main organized exercise was running the 10K loop that kicked my ass something like 3 weeks prior.  I haven't done any running since then but I did of course manage to hike to the bottom of the Grand Canyon and back in the interim. 😉
To make things less miserable this time Cindy and I started running 90 minutes earlier, shortly after sunrise to keep the temps down and minimize the sun beating on us later in the run.  We also ran the opposite direction on the course which gets some of the more difficult and visually maddening sections out of the way early instead of late in the run when you are fatigued.
Both of these changes made the run more tolerable, at no point was I feeling like I needed to stop.  As I felt tired I simply reminded myself what true exhaustion feels like, as in when you are traversing the last 5 miles out of the canyon.
Our pace was very mild, only averaging 9:44 per mile but at least I felt better completing the distance.  Plus when we do this 10k loop it is done with no water stops, a tough thing in south Florida weather conditions.  I am going to need to keep doing weekly long runs from here until the Tough Mudder in early November to get a solid cardio base.
So today at the gym I once again hit up an untimed Ray's Way as my exercise of choice.  Last week I did an untimed session with the goal of just completing the 5 rounds of 15 dips, 8 pull ups, 20 push ups.  I did complete it but my time was slow and my last two sets of 15 dips were broken. (came off bars)
Today for some reason I did much better.  Not only did I keep every set unbroken, it felt like I did them significantly quicker than last week.  I am thinking about doing it again Thursday and utilizing round timer to see if I can complete it within the official time parameters.