Bad form = less effective
on
October 27, 2017
at
5:35 pm
So I have been doing hanging knee raises, leg raises, and toes to bar forever.  I just realized a week ago that because of my poor hip flexor flexibility I have been doing them in a far from ideal way.  One of my old time calisthenics online buddies, Daniel, did a video demonstrating the right and wrong way to do the movement and it turned out I was doing it all wrong.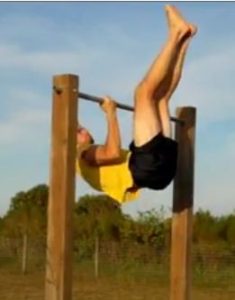 When you do these movements you want the rotation to come from the hips, not the back.  Because my hips are so tight I wind up having a lot of lower back involved in the lifts.  The best way he said to combat that is to do them with your back supported against something solid and you only lift your lower body to the point where your lower back just starts to come off the support.  By keeping your upper body upright against a support you prevent arching and momentum from being a crutch.
Unfortunately at Planet Fitness there is no real pull up bar to do this on but at home I should be able to simulate this by placing my back against one of my pull up bar side supports and doing the same thing.  I expect to be able to do far less reps but be equally if not more effective even so.
Today's Workout
5 minutes cardio/stretching
20 pull ups
50 push ups
Supported hanging knee raise x 10
Standing oblique twist x 20
Supported hanging knee raise x 10
Standing oblique twist x 20
Supported hanging knee raise x 10
Standing oblique twist x 20
Cybex ab crunch – 80lbs x 10, 100lbs x 10
Cybex stiff arm ab crunch – 110lbs x 10, 150lbs x 8
12 pull ups