Confirmed
on
April 4, 2017
at
5:50 pm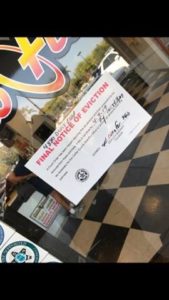 So even though I was 99% sure the doors at Retro would be locked I went anyway, just to confirm.  The lights were on but no members were inside, only some grumpy looking woman looking at stacks of paper.  I hopped back in the truck and headed over to my least favorite gym, Planet Fitness.  In some ways, I am a bit tougher on PF that I should be because they do have some things going on that I do appreciate at a gym.  The staff is friendly, the equipment is in good working order, and the place is kept clean.  Where I get turned off is the lack of conventional gym equipment like bench presses, squat racks, and barbells.  Then you mix in their long list of silly rules and the infamous Lunk Alarm and you now have a "fake gym".
While the woman was processing my paperwork I did a quick lap around the place to see what changed.  As I was already told they removed all of the barbell based benches like flat bench, incline bench, and shoulder press.  These were replaced by even more weight machines which at least looked to be decent quality.
One perk from getting bent over by Retro was Planet Fitness was waving the $10 sign up fee for all Retro cast offs.  I then got another month for free because my bench press buddy came walking in after me, the clerk counted him as my referral, qualifying me for the spiff. I also did not have to do a one year agreement meaning I can bail at anytime without a penalty which is good.
I decided I didn't want to actually do a workout today since half my lunch hour was already over.  I instead had packed my electric unicycle so I went for a quick ride at Sugden Park. So tomorrow my third adventure in the lunk-free Planet Fitness world begins, I can hardly wait, for it to end.