My inner Lou
on
December 31, 2015
at
6:40 pm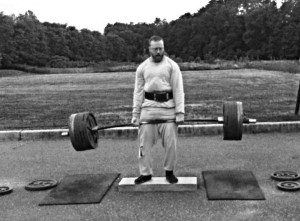 After a clear decline in 2014 as far as my health and fitness goes I had a rebound year.  Things were far from perfect with chronic IT band pain that lasted damn close to 6 months and a return of some mild tendinitis in my left forearm.  However I did mange to get get my bench press back up to 240 pounds, knock out a single set of 62 or 63 push ups, deadlift 375 pounds, flip a 600 pound tire and farmer carry 460 pounds (thanks to Lou).  My endurance fitness level isn't where I want it to be but hopefully that will get back on track soon.
For my last workout of the year I decided to use some IronLoo willpower, navigating into uncharted water in several categories.
For the first time in 2015 I did 7 belly to wall handstand push ups.  I also had three 45's and a 10 on each side of the Cybex overhead press machine (20 pounds than previous best) and finally I did 3 bent over dumbbell rows with the 120's the biggest dumbbell the gym has.  As far as my memory can recall, I have never done that movement with that much weight.  As Lou has demonstrated time and again, sometimes the biggest hurdle is what is between your ears, not what is on the ground.
Today's Workout
5 minutes cardio/stretching
18 pull ups
60 second wall handstand
Belly to wall handstand push ups x 7
Seated one arm alternating row – 100lbs x 10
Belly to wall handstand push ups x 5
Seated one arm alternating row – 125lbs x 10
Belly to wall handstand push ups x 4
Seated one arm alternating row – 145lbs x 8
Standing one arm dumbbell shoulder shrug – 65lbs x 10
Cybex seated overhead press – 200lbs x 10
Cybex seated overhead press – 250lbs x 8
One arm bent over dumbbell row – 100lbs x 5
Cybex seated overhead press – 290lbs x 3
One arm bent over dumbbell row – 120lbs x 3
Cybex seated overhead press – 310lbs x 1