All you need is L
on
August 7, 2015
at
5:25 pm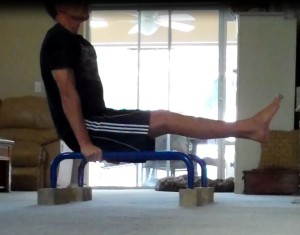 I entered the gym with a very sore set of shoulders which I attribute mostly to the smith machine shoulder press yesterday where I was working at near my limit.
Today I worked in some L-sit holds which in my opinion is one of the best overall ab/core movements there are.  My very lanky build makes my failure points in the hold something different than you would expect.  It's not my abs that give out first, it is usually either my quads or my triceps.  Supporting my freakishly long legs in a suspended parallel position seems to be more than my quads want to handle.  The exact same physics come into play with my triceps as they are fighting gravity that is pushing down on my size 13 feet that are miles away.
I used to really work L sits consistently.  I would like to get some of the consistency back.
Today's Workout
5 minutes cardio/stretching
20 pull ups
30 P-bar knee raises
Static L-sit hold – 15 sec
One hand dead hang (both arms) 30 seconds
Static L-sit hold – 15 sec
One hand dead hang (both arms) 30 seconds
Static L-sit hold – 10 sec
One hand dead hang (both arms) 30 seconds
Static bent leg hold – 20 sec
Ab wheel roll outs (on knees) x 10
30 P-bar knee raises
Ab wheel roll outs (on knees) x 10
30 P-bar knee raises
Ab wheel roll outs (on knees) x 10
Roman chair back extensions x 15
30 second IT band stretch
Roman chair back extensions x 15
30 second IT band stretch