Start with 20
on
June 18, 2015
at
5:53 pm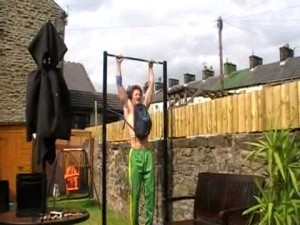 This week I have been reinstituting something I used to do at the start of every workout no matter what the focus of it was, a max pull up set.  I have a line in the sand of 20 pull ups.  If I can't at least get 20 half decent pull ups I feel pretty shitty about my current fitness level.  Right now I am just at that line, being able to squeeze out a 20th rep barely.
My pulling power is a far ways off from my apex when I once managed to get 30 reps on my home bar.  Of course back then I was doing a lot more bodyweight training and also weighed 10 pounds less, both of which make a big difference in your numbers.
My hope is getting back on the daily pull up path will start me creeping towards better numbers and overall strength.  Getting back to 30 is unlikely unless I start to boycott my girlfriend's delicious home cooked meals.
Today's Workout
5 minutes cardio/stretching
20 pull ups
60 second wall hand stand
Seated dumbbell shoulder press – 40lbs x 10
Seated dumbbell alternating bicep curls – 30lbs x 12
Seated dumbbell shoulder press – 50lbs x 10
Seated dumbbell alternating bicep curls – 40lbs x 8
Seated dumbbell shoulder press – 65lbs x 5
Seated dumbbell alternating bicep curls – 50lbs x 5
Cybex seated tricep extension – 60lbs x 12
Cybex seated row – 130lbs x 12
Cybex seated tricep extension – 80lbs x 10
Cybex seated row – 170lbs x 10
Cybex seated tricep extension – 100lbs x 8
Cybex seated row – 210lbs x 5
Standing cable machine tricep push down – 70lbs x 10
Seated cable machine front lat pull down – 120lbs x 12
Standing cable machine tricep push down – 75lbs x 10
Seated cable machine front lat pull down – 135lbs x 10
Standing cable machine tricep push down – 85lbs x 6
Seated cable machine front lat pull down – 195lbs x 5