Swap in when swollen
on
February 17, 2015
at
6:28 pm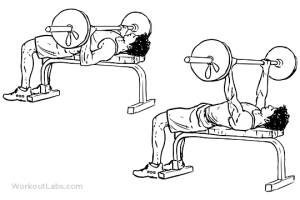 On Sunday Cindy and I did close to a 5.5 mile run to start off the day.  I felt pretty good during the run and thought I escaped injury free.  That may have been the case if I didn't back up the run with almost a full afternoon of a landscape project that involved shoveling, pulling, pushing and lugging mulch all over the yard.  The end result was swelling in my always problematic right knee.
Since today is Tuesday that normally would mean doing lower body weight training.  However since I missed the gym yesterday due to being off I figured it would be smarter to swap in a chest/back day, which I would normally do on a Monday.
My bench press session didn't show any real improvement from last week although if I had one of my gym buddies around I may have tried a couple extra reps.  Overall the session felt effective and worthwhile with a full stack set of the pec deck thrown in for good measure.
Today's Workout 
5 minutes cardio/stretching
Barbell bench press – 135lbs x 10, 185lbs x 8, 205lbs x 2, 215lbs x 1, 185lbs x 7, 135lbs x 13
Pull ups x 10
Low cable row 115lbs x 12
Cybex pec deck – 130lbs x 12
Pull ups x 10
Low cable row 130lbs x 10
Cybex pec deck – 160lbs x 12
Pull ups x 10
Low cable row 145lbs x 10
Cybex pec deck (full stack)- 210lbs x 6
30 push ups