New set of R's
on
December 17, 2014
at
6:39 pm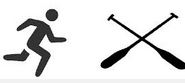 So today had a few firsts.  It was the first time I have done any running in WEEKS.  It was also the first time running in the new ASICS sneakers Cindy bought me for my birthday yesterday.  They are a max cushion model.  It was the first time I used Cindy's Apple Nano for AV entertainment.  It also was the first time I bricked running and rowing together and finally the first time I ever tried a "liquid" rower as the two Concept 2 rowers were occupied.
It felt good to finally run again although I took it very slow and easy, running the 20 minutes at mostly a casual 6.2 mph pace (9:41).  The new sneakers felt good and I didn't feel any significant pain other than soreness from the lower body work yesterday.
The liquid rower definitely had a different feel to it than the Concept 2 that I exclusively had used until today.  Pulling against water resistance felt more difficult than the air you are moving around with the Concept 2.  I had the resistance at a 13 out of 20 setting and it felt tough, tough enough that I only covered 1459 meters in 10 minutes compared to the roughly 2200 I would do on the Concept 2 in the same time period.
The handle on the liquid rower felt fatter and more challenging to grip the longer I went.  The belt system it uses again has a different feel from the chain drive the Concept 2 uses.  Overall I feel more comfortable on the Concept 2 but the liquid rower definitely is a good change of pace, a slower pace that is.
As I mentioned yesterday was my birthday.  Unfortunately I did not have the time to do a workout themed on my new age of 47.  I will throw something together this weekend hopefully.
Today's Workout
Run/Row Brick
20 minute run – 2.04 miles covered
10 minute row – 1459 meters covered