Kalos
on
October 24, 2014
at
5:29 pm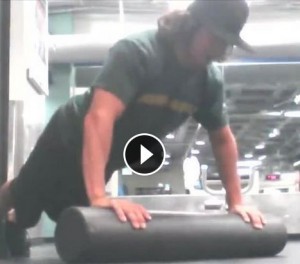 Dan is one of my calisthenics role models.  Like me, he is over 40 years of age.  Unlike me, he can still does amazing things on the bar. Dan is also an avid vegan and looks at the world in a similar manner as I do.
Yesterday he posted a short video of him doing push ups on a compressed foam roller that is intended to help roll out things like IT bands.  He said doing the push ups on the roller really  worked the chest hard as you maintain stability while pushing.  I figured I would try the movement today, if it's good enough for Dan it's good enough for me.
The Wellness Center had the exact same type and size of roller that Dan did his reps on.  I took the first few reps slow as Dan warned of the dangers of rolling forward and injuring your wrist.  After a few reps I felt stable enough to pick up the pace.  Over the workout I did three sets of 25 reps.  It will be a nice little addition to my exercise bag of goodies. Thanks Dan.
Today's Workout
5 minutes cardio/stretching
15 pull ups
25 foam roller push ups
Total ab machine 105lbs x 12
20 hanging knee raises
30 second full extension plank
25 foam roller push ups
Total ab machine 115lbs x 10
20 hanging knee raises
30 second full extension plank
25 foam roller push ups
Total ab machine 145lbs x 6
20 hanging knee raises
30 second full extension plank
30 second dragon flag static hold