Substitute
on
October 15, 2014
at
6:43 pm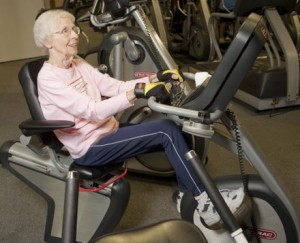 Because of soreness in several areas of my body running was off the list today for a lunchtime brick.  Instead I did a less intense but more diverse triple headed cardio brick spending 10 minutes on the cross trainer, stationary bike and recumbent bike.
I was sweating plenty just not as profusely as when running on the treadmill is involved.  Speaking of the treadmill I was amazed when I surveyed the treadmills in use, nine of them to be exact.  What was amazing to me was eight of the nine people were holding onto the frame of the treadmill while using it.  One of these people was a woman running at a decent clip which seemed even more bizarre.
When you hold on you GREATLY reduce the benefit of treadmill exercise.  Forcing your body to maintain position on the belt requires more effort, balance and core work.  If you are going to spend time exercising on a treadmill why not do so in a manner that gives you the most bang for the buck?
Today's Workout
Cardio brick – 10 minutes cross trainer (no hands), 10 minutes stationary bike, 10 minutes recumbent bike
500 foot continuous VMX rope pull at highest resistance setting