Finally flagged
on
October 10, 2014
at
5:36 pm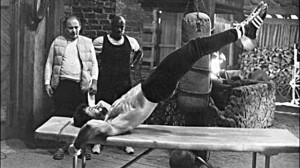 The good news is I finally found a spot at the Wellness Center where I can do dragon flags.  The bad news is, it's the squat rack.  I have been a long time critic of gym goers that do things in the squat rack that don't involve squatting, the most egregious being squat rack curlers.
I would prefer to not use the squat rack for this core exercise but it is literally the only place I have found that really works.  I have tried multiple exercise machine frames as an anchor point but they don't work because of the slippery plastic flooring the place uses.  Even if the machine had a couple hundred pounds of weight in it, the torque a dragon flag generates is enough to slide the machine around.
Well the squat rack not only has more weight on it, it also is bolted to the floor, the only equipment that is in the entire gym.  I found that using a low cross support worked well for the few flag reps I did.  I got a lot of "WTF is that" looks as I rolled out of each set of flags.  I found that trying to do pull ups after dragon flags is a recipe for fail.
Today's Workout
5 minutes cardio/stretching
20 hanging knee raises
25 push ups
20 hanging knee raises
15 dips
20 hanging knee raises
10 pull ups
Dragon flag x 3
25 push ups
Dragon flag x 3
15 dips
Dragon flag x 3
9 pull ups
Dowel trunk rotations x 20
25 push ups
Power tower straight leg raises on elbows x 15
15 dips