240 no touch
on
August 4, 2014
at
5:41 pm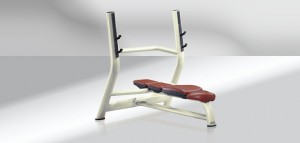 So today was the first time I ever benched at the Wellness Center.  The bench press rigs they have are also the TechnoGym variety.  I wasn't nuts about their configuration.  First the bench surface isn't a bench at all.  Instead it is a series of smaller pads stuck together instead of one continuous flat surface.  I didn't really like the way it felt across my back.  The bench also has an awkward, curved cross brace which looms across the top of your field of vision when doing reps.  It's poorly designed.
The bar on there felt/looked almost brand new, it was all chrome.  Again there were some oddities about it.  The knurling on the grip part was not very deep and the spacing on the grip felt off as well.  When I do a bench press on a normal olympic bar my middle finger naturally wraps around the small thin strip on the outer part of the bar.  With this bar I felt like I needed to put my index finger on that same spot to achieve similar grip width.
Now with all of this complaining you would think I was setting up to use it as an excuse for a poor performance.  I actually did well, pushing 240 lbs once again, this time without any spotter hands touching the bar for even a microsecond.  Jim, my buddy whom I followed to NCH from Royal Fitness, was my spotter so he knows I don't like any hands on the bar unless I groan for help.  The rest of my pressing work out went smoothly as well.
Yesterday I knocked out 80 more reps in my 1000 pull up challenge.  Check out the video at the bottom.
My upward climb on the scale continues.  Last night the number flashed up at me was 187.6.  I am going to have to either swear off Cindy's good cooking or start taking Ex-lax for desert.
Today's Workout
5 minutes cardio/stretching
Barbell bench press – 135lbs x 10, 185lbs x 5, 225lbs x 1, 235lbs x 1, 240lbs x 1, 225lbs x 1, 205lbs x 4, 185lbs x 8
Barbell incline bench press – 135lbs x 10, 155lbs x 8, 185lbs x 3
30 Push ups
30 Push ups
3 minutes A2G hold