Learning the ropes
on
July 31, 2014
at
6:06 pm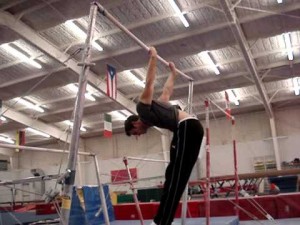 So as I am programmed to do, I am making my longer, more traffic filled drive to the new gym as efficient as possible.  I have already identified the ideal traffic lanes to slide into to make the drive as hassle free as possible.
I also am still working at coming up with an entire new set of things I can do at the Wellness Center thanks to the much larger selection of equipment available.  Today I discovered a perfect spot to do my wall handstand holds and after doing 3 sets I was able to come off the floor without my hands looking black.
There is much more going on at the new place, people buzzing around, fitness classes going on, all in a spacious, modern, clean environment.  It's quite the contrast to what I had become accustomed to.
Today's Workout
5 minutes cardio/stretching
60 second wall hand stand hold
Seated dumbbell curls 25lbs x 10
20 dips
60 second wall hand stand hold
Seated dumbbell curls 40lbs x 10
20 dips
60 second wall hand stand hold
Seated dumbbell curls 50lbs x 5
20 dips
Lateral straight arm dumbbell raises 15lbs x 12
Cable machine standing curls with straight handle 100lbs x 10
Bodyweight tricep extensions x 8
Lateral straight arm dumbbell raises 20lbs x 10
Cable machine standing curls with straight handle 120lbs x 10
Bodyweight tricep extensions x 8
30 second skin the cat static hold with retracted scalpula