New cardio
on
July 30, 2014
at
5:41 pm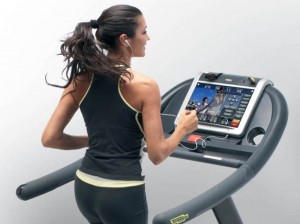 So day 2 at the new gym was my first time hitting their cardio equipment.  The treadmills definitely are nicer than what I was accustomed to at Royal Fitness.  The TechnoGym treadmills have a nice touch video screen that allows you to keep a full statistical window, a full screen tv picture or a combo view of both (my choice) on the screen at the same time.
The AV selection was nice but I also liked the running platform which felt large and stable.  I was on one of the treadmills in the front row meaning I had a nice second story view out of the huge windows looking down on Tamiami Trail.
The stationary bike I used, another TechnoGym model wasn't quite as good as the treadmill.  The way things are set up there is no way to get down on your forearms while pedaling to allow more exertion of leg power.  The level to exertion ratio is of course different than the Cybex bike I was riding before.  With the Cybex, a higher difficulty level equated to a a higher virtual gear and thus it adjusted your virtual speed accordingly.  At least so far, I have not figured out how to make the TechnoGym bike do something similar but I think with a little digging around I will figure it out.  With the flat manual settings it showed I only traveled 2.68 miles in 10 minutes instead of the normal 3.25 miles I was showing on the Cybex bike.
The other negative about all of the stationary bikes in the place is none of them have a built in fan which was part of the reason I had a substantial puddle of sweat on the floor by my bike.  (yes I wiped it up afterward)
Today's Workout
20 minute run / 10 Minute bike training brick
Run distance covered – 2.18 miles
Bike distance covered – 2.68 miles