Hybrid, UK Jay
on
May 27, 2014
at
5:43 pm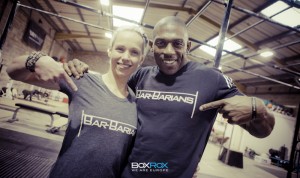 Last week I was asked to film a short little happy birthday message for UK Jay, one of the original Bar-barians.  It was his 40th birthday.  Jay is a great guy and really has done a lot to help motivate people both in the UK and around the world in the bar community.
A TON of people contributed to what turned out to be a 15 minute video.  If you want to see my contribution tune in around the 7 minute mark.
I hadn't been to the gym since last Wednesday so I was way overdue for some work.  I decided to do another bench pressing session although none of my trusted gym buddy spotters were present so I didn't give 230 another shot.  I did try to cut my sets leading up to the heavier weight to see if it would make a difference.
My numbers were a little better in some regards, I did one rep at 225 pounds twice instead of once and on my going down 185 set I netted one additional rep.
During a few of my A2G holds I changed things up by holding an empty barbell across my back for the hold.  Doing this made the hold both more challenging and more functional as it got my body accustomed to what an A2G squat should really feel like balance wise.
I followed my benching with 75 solid push ups.  My chest will be sore to the touch by tomorrow.
Today's Workout
5 minutes cardio/stretching
Bench press – 135lbs x 10, 185lbs x 5, 215lbs x 1, 225lbs x 1, 225lbs x 1, 205lbs x 3, 185lbs x 7
Full ROM push ups 3 sets x 25 reps
6 minutes A2G hold