Lunch mini-brick
on
April 29, 2014
at
6:58 pm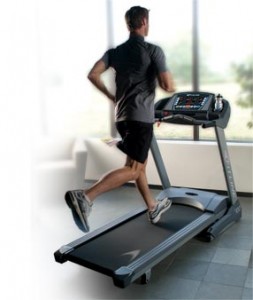 Since my mystery AB pain developed after last week's DL/Squat session I decided to steer clear of those movements today.  Instead I did something I hadn't done at the gym in ages, a mini-brick.  When I was training more seriously for triathlons I would do one of these during the week backed up by a longer outdoor brick on the weekends.
Since the inspiration to do one today was spur of the moment I was not sporting the proper equipment.  I was lacking my normal running shoes, beach towel and spare t-shirt to wear post workout because of the excessive sweat these workouts generate.
I did 2 miles on the treadmill at a decent 9:13 pace and then hopped on a stationary bike and covered 3.2 miles of riding during a very sweaty and smelly 10 minutes in the seat, averaging a virtual pace of 19-20 mph.
Despite the relatively short run and ride it felt plenty challenging.  My soaked shirt can attest to that.
Today's Workout
Run/Bike Brick – 2 mile run at 9:13 pace, 10 minute ride – 3.2 miles covered.