Hanging out the flag
on
February 28, 2014
at
6:20 pm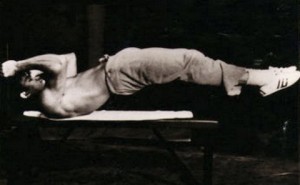 I missed my gym session yesterday due to being out of the area.  It was just as well, my upper body was pretty much sore everywhere.
Today I did a variety of core related work, including a couple dragon flag sets, a movement I haven't had a chance to work in awhile.  No other exercise I do feels like it works my core like the flag.
Today's Workout
5 minutes cardio/stretching
15 slow paced dead hang pull ups
20 – hanging knee raises
20 – p-bar knee raises
10 – 45lb side raises, both arms
8 – 45 degree to 90 degree hanging straight leg raises
5 – dragon flags
5 – dragon flags
15 – back extension raises
6 – one minute A2G holds supersetted in between other movements.