A2G knocked me on my A, no pizazz
on
January 31, 2014
at
7:52 pm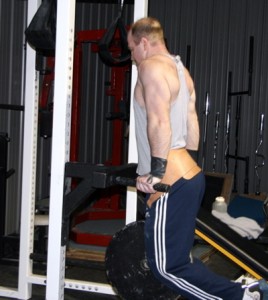 So I barely managed to complete the full 30 minutes of holding ass 2 grass squat position yesterday.  The last two holds I did at home were extremely uncomfortable and not deep thanks to soreness from Wednesday's squats and deadlifts rolling in. Today my lower body feels horrible, I wouldn't even think about attempting the position until some of this soreness leaves my body.
Today was another one of those lackluster work outs, a word I would use to describe yesterdays gym session too.  I am just not feeling all that strong, determined or motivated.
I realized today that the 1/2 marathon I have done the past 3 years is rapidly approaching, something like a month away.  I think it is pretty much assured that there will be no 4th consecutive year of my running it.
Ever since the Tough Mudder in November any running I have done has been followed with a blown up right knee.  I have done zero consistent running since the TM.
Plus my emphasis on dead lifting in the last year has transformed my body in ways that don't seem conducive to running.  Overall I have increased my strength and power but I have also increased my body weight in doing so, something that just does not help my running in the least.  When I was scraping the low 170's on the scale I may have looked pretty gaunt but my running was as strong as it ever was. So anyway, short of a minor miracle, I don't see myself running a half marathon anytime soon.
Today's Workout
5 minutes cardio/stretching
15 pull ups
15 dips
20 push ups
10 weighted dips (45 lbs)
20 push ups
4 weighted pull ups (45 lbs)
8 weighted dips (45 lbs)
20 push ups
4 weighted pull ups (45 lbs)
7 weighted dips (45 lbs)
20 push ups
Bleh…