Loopy
on
January 8, 2014
at
3:19 pm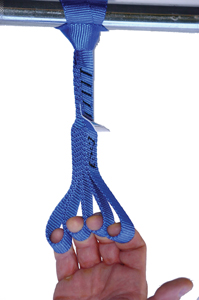 Yesterday at the gym I tried out my new Eagle Loops, one of my Christmas gifts.  It's a very simple but effective training aid, designed to help build hand/grip/finger strength.  I actually mistakenly received two sets due to an Amazon wish list malfunction.  I sent my extra set up to IronLoo.
Lou advised me ahead of time that many people use these incorrectly.  They will insert their fingers all the way through the loops to the point where the fingers meet the palm.  That will give you very minimal benefit.
The correct way to use the loops is to insert the fingers so only the first knuckle is over the strap.  This forces your fingers to work very, very hard to support your weight.  Lou told me that doing pull ups with the straps forces you to use slow pace with good ROM.  I immediately felt what he meant.
I think the loops will be a nice addition to my grip training gear, especially when combined with my Fat Gripz. I started with 4 fingers in the loops and then dropped to two fingers later, ouch.
Yesterday's Workout
5 minutes cardio/stretching
8 Eagle Loop pull ups
Seated dumbbell curls 25lbs x 10
20 bodyweight dips
8 Eagle Loop pull ups
Seated dumbbell curls 40lbs x 10
20 bodyweight dips
7 Eagle Loop pull ups
Seated dumbbell curls 50lbs x 4
20 bodyweight dips
Cable machine curls 80 pounds x 12
Cable machine tricep push downs 80 pounds x 12
Cable machine curls 100 pounds x 10
Cable machine tricep push downs 100 pounds x 10
Cable machine curls 120 pounds x 8
Cable machine tricep push downs 120 pounds x 10