Lagging
on
January 3, 2014
at
9:16 pm
I have been tardy posting my daily workouts.  I'll blame it on the holidays.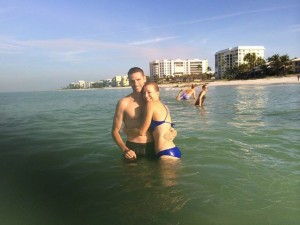 On New Years Day I participated in a 5K run followed by a dip in the chilly but quite survivable Gulf of Mexico.  I haven't been doing much running at all since the Tough Mudder because of right knee pain.
The pain was with me for the first mile or so of the race until finally fading away once I was good and warmed up.  As expected, after the race I have swelling again in the joint.
I did ok for not running much, finishing with a time just over 25 minutes.
My last two days at the gym have been nothing exciting.  Yesterday I hit shoulders with handstands, inverted shrugs and delt dips. Today's workout was as follows:
Today's Workout
5 minutes cardio/stretching
15 pull ups
15 dips
20 Pbar knee raises
45 lb weighted pull up x 5
45 lb weighted dips x 10
Pbar knee raises holding 25 pound dumbbell between feet x 8  (awkward)
45 lb weighted pull up x 5
45 lb weighted dips x 10
Pbar knee raises holding 25 pound dumbbell between feet x 8
45 lb weighted pull up x 4
45 lb weighted dips x 9
Pbar knee raises holding 20 pound dumbbell between feet x 12