More catch up
on
December 30, 2013
at
6:33 pm
My exercise routine around Christmas was rather spotty.  It did include some highlights like this: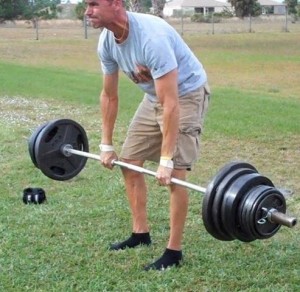 I really wanted to get 400 pounds off the ground.  Well I did get it off the ground momentarily but could not pull it upright, something I managed to do a few minutes later, barely, with 390 pounds on the bar.  Of course I had to utilize lifting straps to keep the bar attached to my arms.
This was the first time I lifted enough weight that it bent the olympic bar slightly, COOL!
On Christmas Day I did a 20 mile bike ride.  Other than these two events, I didn't do that much exercise at all, I kept myself busy doing post Christmas duties and other chores around the house.
Today I got back into the swing of things with an informal Ray's Way.  I felt weak, heavy and slow.  I plodded through 5 sets of 16 dips, 9 pull ups and 21 push ups off the clock.
Although surely a decent portion of my current nighttime body weight of 183-184 pounds is additional muscle from doing the deadlifting, it still feels I have an unhealthy hunk of 3-5 pounds to shave which would help me in both endurance exercise and endurance sets like Rays Way.
Today's Workout
5 minutes cardio/stretching
Ray's Way
5 sets of 16 dips, 9 pull ups, 21 push ups