Easing back from the mud
on
November 4, 2013
at
7:00 pm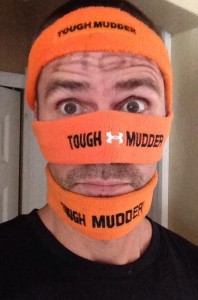 So I had the Tough Mudder on Saturday.  You can read a full recap of the event on my regular blog here.  Let me just say it was tough but more wet than muddy.  I almost escaped injury free but managed to f up my knee coming off the Everest 1/4 pipe like a dummy.  I don't think the injury is super serious but a slight limp will be around for at least a few days I think.
Cindy did great with the course as well, she is a real trooper. Her never say die attitude is very inspiring.
Today at the gym I wanted to ease back into things.  When I did my post cardio stretching I had the difficulty I would expect doing the quad stretch on my right leg but what I didn't expect was equal amounts of discomfort trying to do the hamstring stretch.  I gave up trying to touch my toes, my right knee was just not going to allow it.
I burned a lot of time talking to/comparing notes with a few gym buddies that also did the Mudder.
Today's Workout
5 minutes cardio/painful stretching
20 pull ups
25 push ups
20 dips
10 pull ups
25 push ups
15 dips
10 pull ups
25 push ups
15 dips