First time since the crash
on
December 21, 2012
at
6:48 pm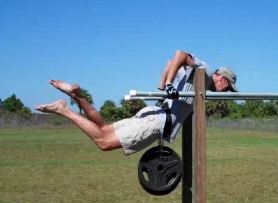 Regular readers may recall that a month or two ago I had an unfortunate accident on my home parallel bars while doing weighted dips. 
With 90 pounds hanging from my waist I tried to jump into dip starting position. Well I instantly turned into a large, out of control pendulum and wound up smashing my right bicep on top of one of the 4×4 supports. I actually still have a mark on my arm from the incident.
Anyway, today was the first time I had tried any weighted reps of any sort since the incident.  It went pretty well, I topped out at a body weight +80 pound pull up and a BW +90 pound dip.
It felt good to do some heavy reps but I can already feel the different kind of soreness they create setting in.
I hope everyone out there in the bar community that visits me here in my little corner of the internet has a joyous Christmas holiday!!